Are you exhausted from starting every diet/detox/program/meal plan?
Are you confused about what to eat?
Do you want to break free from eating rules?
Do you want flexibility and an unwavering confidence on your pathway to health?

JOIN THE CLUB!
GRAB AN INTRODUCTORY RATE OF $8 HERE
In this 12-part membership, you will:
create health promoting habits
become fearless with food
discover your own unique exercise pattern
become more confident in the kitchen
build self-love and humble confidence
On the 1st of each month, the following will be added to the curriculum:
A health-promoting focus with a beautiful printable to display anywhere you need a reminder
A monthly, initiative guided through a beautiful power-point with voice-over
A self-guided homework handout to bring the lesson to life
A seasonal recipe collection, easy to follow printables with step-by-step instructions
A PDF Menu Starter
Workout library with short videos to use in any way you wish
An interactive community & email support
Monthly prizes to keep things fun!
2018 Monthly Themes: added to the course on the first of each month
January: Honor your overall well-being while pursuing your goals
February: Learn from your cravings
March: Make your meals count + Metabolism myths
April: Break-up with your food rules
May: How food impacts your mental health
June: You actually aren't what you eat, you are so much more
July: What's for lunch? New inspo for your midday meal
August: Gut health: when eliminating food groups create pseudo intolerances
September: Maximize your time in the kitchen without tedious meal prep
October: How to talk to your kids about food and their bodies
November: Commit to pleasure and gratitude
December: Reflection: can you spot and drop diet talk?
Your Instructor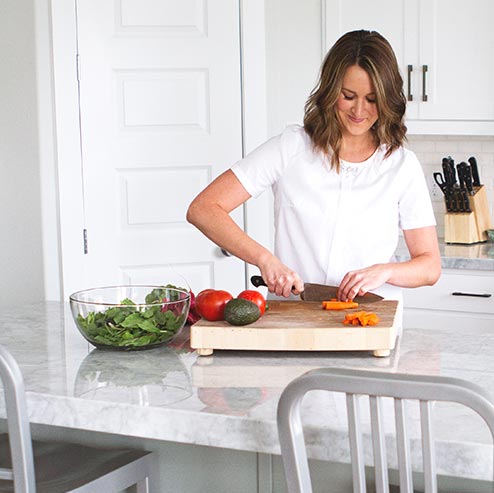 Devrie Pettit is a Registered Dietitian Nutritionist. She received her BS degree in Nutrition and Food Science from Utah State University. She then went on to complete her Dietetic Internship and receive her Master's Degree from Stony Brook University in New York. She studied the Mediterranean Diet in Italy where her love for Italian cuisine grew. She is also a certified Pilates instructor, teaching at Studio Core Pilates. Devrie has worked at Life Time Fitness as the Nutrition Coach and co-developed a corporate wellness program for the top insurance brokerage firm in Utah. Devrie co-founded a successful online business named PureFit PureFood in 2014 and has re-branded it to support a more concise wellness message focused on Intuitive Eating, HAES, and restriction recovery. She does not beleive in diets, loves to cook, and try new restaurants. Devrie is a wife and mother of four. Raising them as "foodies" rather than "health nuts" is one of her deepest passions.
Disclaimer: there is a 24 hour cancellation policy for the course at this time. Please email [email protected] with any questions you might have.